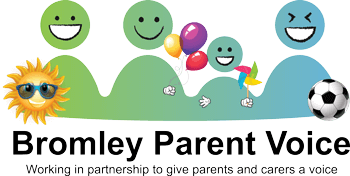 BPV Family Fun Day – 9th April 2016
Bromley Parent Voice held our first Family Fun Day for children and young people with additional needs and their families.
We were delighted that the Mayor of Bromley joined us to officially 'open' the Day and was able to chat to many of the parents and organisations who attended the event.
The day was a great success with many families joining in the activities available on the day which included cricket, football and dancing. We had a Games Wagon where there was a host of games consoles to play on. The children also enjoyed a bouncy castle and they were able to create some fantastic craft creations and join in on music sessions.
We were also joined by many of the Bromley Organisations that support social and leisure activities for children and young people with additional needs in the borough.
Families had opportunities to get to know each other and share information whilst enjoying a cuppa and some of the delicious cakes we had donated to us.
Through our work on the Local Offer and Social Care Innovation Fund project we have heard how important it is for children, young people with SEND and their families to have 'Time for Me'.
The aim of the day was to have fun, give parents, children and young people the opportunity to network and to make families aware of some the leisure opportunities for children and young people with SEND in the LB Bromley.
For further information visit the Local Offer – http://bromley.mylifeportal.co.uk/lbb-local-offer.aspx
We are hoping to plan more Fun days so look out for future announcements.
Here's what the parents told us: